It's hard to put a finger on Keith Haring's genius. His specialty, to an untrained eye, is simple and seemingly uncomplicated shapes, forms, colors and lines. Part of what's so remarkable about Haring is how organically his art went from simple graffiti scribbles in New York City's underground—stuff that was meant to be temporary, low-brow and of the people—to works on canvas being an integral part of permanent collections in the finest museums in the world. For a Reading, PA boy with three sisters and a cartoonist father who briefly attended The Ivy School of Professional Art in Pittsburgh, it's a miracle that Haring's legacy is still enriching generations of humans across the globe.
There's a vitality that glows from his Radiant Baby, a trademark image he started spreading around subway stations before the '80s had arrived. Soon after, he started a long-term successful collaboration with a space called Club 57, a nightclub (at the time) at 57 St. Mark's Place, where he started regularly associating with Kenny Scharf, Madonna, Jean-Michel Basquiat and Andy Warhol. Certainly, Haring was inspired in this environment and in New York City, then a wildly different city than it is today. Because shortly after these first few years in New York, his art started taking off in terms of notoriety and acclaim, and he started getting commissioned internationally.
Obviously, the real tragedy is that he's gone, and that he left us at the tender age of 31, just as he was hitting his stride as an artist. Haring was a homo who liked to have fun, and he was dangerously positioned at the dawn of the age of HIV and AIDS. His work often portrayed sex, but he was always a safe sex advocate; he wasn't a vulgar artist, and his visuals very often conveyed messages of hope, unity and love. Plus, he coined and popularized succinct phrases that became inspiring and iconic statements you can find on Urban Outfitter t-shirts, which continue to serve as a tool of empowerment and self-respect: "Crack is Whack" and "Silence = Death." Haring often strived to put his art in places that needed a boost, under-served and struggling communities that could use a reminder that to be alive is a gift and to participate in the human experience requires compassion and empathy. Which is why it's no surprise that we have, right here in Philadelphia, one of the most treasured works in the Haring oeuvre.
His "We The Youth" mural, located on the side of a house at the corner of 22nd and Ellsworth, is one-of-a-kind. It is the only surviving collaborative public mural to remain in its original site, the wonderful product of a team-up with Brandywine Workshop and the CityKids Foundation of New York. And at the beginning of November, the Mural Arts Project is poised to grandly reveal an ongoing and meticulous restoration of the legendary mural. Haring's work, be it a mural, collage, sketch, painting or installation, appears in esteemed museums beyond our borders (the MOMA and Whitney, the Art Institute of Chicago, the LA County Museum of Art, Centre Georges Pompidou in Paris and the Ludwig Museum in Cologne, to name a few), and by some small miracle, we've got a big, beautiful vestige of his legacy out in the open for consumption, without an admission fee or a dress code, right in Graduate Hospital.
Established by the artist himself in 1989, the Keith Haring Foundation "perpetuates Haring's artistic and philanthropic legacy through the preservation and circulation of his artwork and archives, and by providing grants to children in need and those affected by HIV/AIDS." It's clear that Haring thought critically and seriously about how to let his artwork continue to serve humanity in his absence. He wasn't a stranger to commodification and didn't resist it because he saw the potential in letting affordable miniatures of his work allow broader access to art – not just rich people could collect him. His Pop Shops were a revelation, and his success at the time allowed him to commodify his work on his own terms. "Here's the philosophy behind the Pop Shop," Haring declared. "I wanted to continue the same sort of communication as with the subway drawings. I wanted to attract the same wide range of people, and I wanted it to be a place where, yes, not only collectors could come, but also kids from the Bronx … this was still an art statement."
So, do yourself a favor: Check out the excellent 2008 documentary (on Netflix) called The Universe of Keith Haring by filmmaker Christina Clause, and get yourself to the grand reveal of the touched-up "We The Youth" mural next Sat., Nov. 2, at 1pm.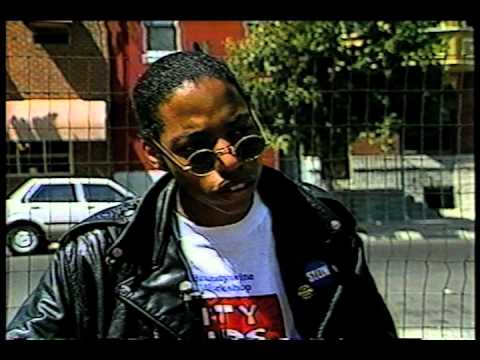 Yarnbombing: the public art of making everything cozies.
The first one I'd seen in Philly was in Rittenhouse this month (above), and we've put a gallery of knit graffiti around the world below, but first, we actually managed to get in touch with the yarnbomber who made the one above and probably made any others you've happened upon in Center City and asked her a few questions:
Where/when did you get started doing yarnbombing?
I first heard about yarnbombing when a friend of mine tossed me a link to a picture of a tree completely covered in yarn.  i thought it was so beautiful.  The tree branches were even wrapped- that takes some dedication. I started about two months ago, wrapping bike racks and parking meters. I also made little chains that i was wrapping around people's bike locks.
How long do they usually last in a public place?
Some of them have been taken down, because they get kind of grimy after the city takes it toll on them.  Others have been taken down immediately, like a handrail my friend and I wrapped at the subway entrance at 15th and Market and a scarf that we wrapped around Rocky.  I wrapped another tree on third street in Old City last week.  I went back two days later to take a picture and it was gone.  That one was kind of a heartbreak, since it was the same size the tree in Rittenhouse.
How do you attach the cozy to the tree? At night?
To keep the cozies on i actually sew them with a yarn needle.  The bigger pieces I try and wait until it's dark. I think it's a hard thing for people to decide, "is it art, or vandalism?"
I assume you also knit things not for public art, right?
I've actually been knitting for about two years.  At the moment I mostly make accessories under the name iSH Knits, and I have a website www.ishknits.com. I'm currently consigned at Bambi in the Piazza and plan on pursuing more gallery positions once I finish my spring collection, but i always seem to get distracted by yarn bombing.
Have you done other yarnbombs in Philly?
I'd love to have a Philly crew so we could branch out of Center City and hit the farther reaches of town.  Right now it's just my friend and I, and her piece is wrapped on the lightpost in front of Oscars (15th and Sansom). I'm planning to have a big display soon at City Hall, which may or may not last.
Hey, Oscars is right down the street from Philly Weekly! Neat! She sent us pictures of the one in front of Oscar's as well as a couple more places in the city. I felt it was prudent not to put her or her friend's names or emails, but if you're interested in yarnnbombing and want to get in touch, you can leave a comment here or at her ishknits page. And now, pictures!
Here's the one outside Oscar's…
…And here's one on Walnut…
…And on Chestnut. Now here's a few not by the people we talked to:
I noticed this post by the delightful Zoe Strauss, who just had her big I-95 photography show last weekend, and got instant deja vu. She put up this picture:
I subscribe to a few Philly-related flickr streams, mostly to give myself a little visual break when digging through the vast mound of digital stuff excreted into my google reader by Philadelphians every day. I had a hunch I had seen KATIE HOLMES pop up at least once before there, and indeed:
And another (but without the appended 'SUX')!
They look like they're the same handwriting, especially in the K and the M… who in god's name would choose KATIE HOLMES as their tag?
Anybody seen any other examples of KATIE HOLMES around town?
Quirky news via Jezebel this afternoon. Australian Denise Litchfield is street artist. Only she isn't using spray paint, she's using—wait for it—yarn. According to the Sydney Morning Herald, Litchfield is part of a growing global movement of guerilla knitters, who stitch their work onto public property. Her goal is to knit cozies for fire hydrants.
"It redefines street art and is also a reference to graffiti," she said. "It's absurd and feminine and fun." Maybe so, but I bet it's also really, really gross after it rains.
Let's take a moment to discuss the term "guerilla knitters." The word "guerilla" is defined by my dictionary widget as  "a member of a small, independent group taking part in irregular fighting." Who are the guerilla knitters fighting against? The Sydney Morning Herald interviewed Emily Howes, an expert from University of Technology, Sydney, and author of a Ph .D. thesis on "indie craft." She claims that guerilla knitters "see craft as a subversive and politically motivated act—a way of jolting people out of their comfortable reverie."
Because, really, a fire hydrant wearing a sweater is what's going to wake me up and make me start caring about global economics and poverty and homelessness.
PW and Guardian readers will recall former Philly Weekly A&E editor Steven Wells' hatred for knitting and the shit-tons of criticism he received from Philly  knitters. They've proven to be a strong (and outspoken) community.
So what we wanna know: Are there guerilla knitters in Philadelphia? And if so, are they plotting against Steven Wells as we speak?