Bright colors are the go-to trend of the season, but as with any sizzling hot fad, they burn out as fast as they blow up.  The colors are a lot of fun, but everyone's wearing them, so it's hard to stand out from the crowd.
I like to incorporate the latest trends with my own style to create a unique look, otherwise my friends and I would look like we're straight out of a Gap catalog.  Trends are a great way to spice up your wardrobe from season to season, but they shouldn't dictate fashion choices.
Earlier this season like every other season, J.Crew released their 9″ Stanton short in a wide array of colors, my favorite being their dusty berry.  Salmon shorts have been a J.Crew staple for eternity the past few spring/summer lines, but salmon and coral are hot in all stores this spring. The key is to wear them as the focal point of the outfit's color palate.  I pair my colored shorts with a simple black deep v-neck and creme shaw collar sweater for chilly mornings because the black shirt doesn't take away from the main color trend, but it still makes a statement in the outfit as a whole.
The v-neck shows a little skin, a little muscle, and ideally a little chest hair a little tan, all without distracting from the color of the shorts.  It turns the simple, yet sophisticated shorts and sweater outfit (or shirt and shorts on hot days) into a sexy, fun day-out outfit.
We love using pieces to accent others in order to create a mood.  Like perfume with its various notes, outfits must be designed so the various pieces compliment one another to match your personal style.  Mine screams gay club meets the Hamptons, sexy and flashy, yet sophisticated and well groomed.
Play around with the latest and greatest styles and think about ways to work them in to things you already have.  Trends are simply what's hot now -they are not laws.  Just because something is hot, doesn't mean it should actually be worn, cough jellies cough.
Yeah, yeah you already know: bright colors are IN for spring. The sky is blue, grass is green. But for the last couple of seasons, warm, peachy tones have been the staple hues in the chicest spring looks. Earlier this year, Pantone announced "Tangerine Tango" as its color of the year, and the super pretty coral-orange made a big splash in this season's fashion collections. Here are some of the latest pieces that will give you a beautiful fashionista blush.
Zara blouse, $59.90
Anthropologie skirt, $188
Pollini bag, price upon request
H&M blazer, $34.95
Modcloth dress, $82.99
J.Crew espadrilles, $128
~ Jennifer Nguyen
Spring's color wheel revolves around a scheme which couldn't be described better by Nanette Lepore, "…the mix of hot neon colors with soft pastels, reminiscent of nature at its extremes: a powerful sunset, the ocean sparkling at dusk with flashes of lightning in the distance."
But these pops of contrasting color are being spotted mostly on one of the most casual necessities of our wardrobes: jeans.
Here are the bests of bright, sun-bleached yellow and minty, oceanic blue.
Best Fit: J. Crew garment-dyed twill Toothpick jean in light citron, $125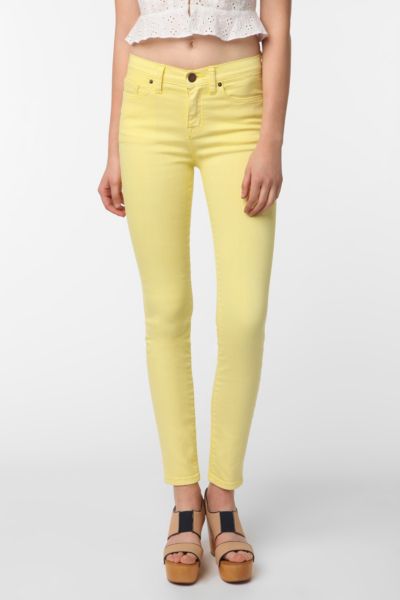 High-Waisted: Urban Outfitters BDG Cigaratte High-rise jean in yellow, $58
Best Price: Forever 21 Fitted Skinny Jeans in Light Yellow, $15.50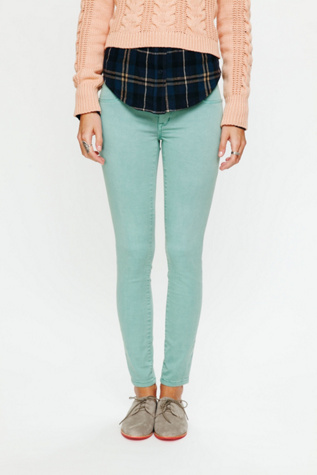 Best fit: Free People Candy Stretch Skinny Jean in Sea Man, $78
High-Waisted: Urban Outfitters BDG Cigarette High-rise jean in Mint, $58
Best Price: ASOS PETITE Exclusive Mint Green Skinny Jean, $32
–Marissa Oswald
For better or worse, Spring Break is coming, and that means we only have two weeks to get our swimsuits, towels, flip flops and beach bodies ready to lay on the beach and do absolutely nothing for an entire week.  The only problem is, almost no stores carry swimwear this early, but the few that do would make perfect additions to your Spring Break carry-on.
J.Crew has a huge selection of men's and women's swimwear, all of which incorporate the latest trends.  The women's line has a plethora of bandeaus, one pieces and bikinis to fit all body shapes and sizes.  One adorable women's one-piece swimsuit featured ruching around the stomach to give you a sleek figure, while still being sexy.  Tres chic.
Their men's line, pictured above, has a host of nautical designs, along with simple solid colored suits.  Like J.Crew's shorts, the swimsuits are available in 5, 7 and 9 inch inseams to show as much or little skin as you want.
If J.Crew's swimsuits aren't energetic enough for your spring break destination, check out Nordstrom's men's and women's swim sections for a host of styles appealing to almost all audiences.  For example, I like my trunks short and fitted, but they're not for everyone.  I saw a bunch of swimsuits that I would wear in a heartbeat, but I also saw a wide range of knee length board shorts for more conservative men.  Like the men's line, Nordstrom carries a wide range of suits from short, sexy bikinis to sophisticated one pieces.  I love the sexy one-pieces that have emerged over the past several summers because they show a sexy figure, while still leaving something to the imagination.
Based on the spring break swimsuit designs, I'm excited to see what stores will sell for the summer.  I love it when stores break the typical mold of bikinis and board shorts because like any other article of clothing, your beachwear should reflect your personal style.
"New Year, New You" is emblazoned on nearly every sign in spa and boutique windows this year, and I can't even recount how many times I've stumbled upon that saying on the Internet from the safety of my own bed. Yet, while the repetitiveness makes me wish the 15th (16th?) predicted apocalypse were coming sooner, the message should still ring true.
The most popular New Year's resolutions are consistently to lose weight, quit bad habits, get a better job, be happier/healthier/etc., or save more money. But too often, we ignore one of the biggest facets of our lives: the clothes on our very backs. And if you're like us here at PW Style (which, I hope you are as you read this), you understand how important it is to refresh and rejuvenate your style; and when is it more appropriate to do so than upon embarking on a new year? Click "more" for our recommended fashion resolutions to banish your wardrobe woes in 2012.
It's about that time when shoppers go from the normal leisurely window browsers to ravenous sale hunters that stop at nothing to get the greatest deal on a pair of pants.  Most stores are trying to keep their Black Friday Deals under wraps, but some have leaked out.  Here's what we know so far:
Anthropology
25% off sale items through Sunday.
50% off sale items Friday 6 a.m. to 11 a.m.
Bebe
40% off selected styles.
Bloomingdales
Save 25-40% on select merchandise through Sunday.
Express
Everything in store is 40% off Thanksgiving Day and Friday morning.
Everything in store is 30% off on Friday afternoon.
Everything online is 30% off on cyber Monday.
Gap
Everything in store & online is up to 60% off through Saturday.
H&M
Dresses and sweaters start at $5.
Pants and Kid's jackets start at $10.
Outerwear starts at $20.
They're also doing a scratch off promo for the first 100 people in line that is valued at up to $300.
J.Crew
25% off purchases of $150.
Lucky Brand
Tops are half off with the purchase of a pair of jeans.
Selected accessories are 30% off.
A select two pairs of jeans in the store on a promotion.
Check out your local store for more details!
PacSun
Denim is buy one pair, get one free.
Men's flannel shirts are $20.00.
Women's skirts are $10.
Women's sweaters are $20.00.
Women's wovens are $15.00.
Sephora
Selected items are $10 each.
Personal shopping services are available upon appointment for purchases over $250.
Sunglass Hut
The sales associates wouldn't divulge the deals, but she said it's something similar to the current promotion:
$50 bonus card with the purchase of a pair of sunglasses over $150, and an additional 30% off clearance.
Tilly's
The first 100 customers will get a Tilly's gift card worth $10-$100.
Urban Outfitters
50% off sale stuff midnight to 10 a.m.
Victoria's Secret
2.5 oz. perfumes are $25 each.
$25 for selected pairs of yoga pants
Buy one, get one 50% off bras.