Heads up! Here comes Born Ruffians, a killer indie rock quartet from Toronto whose melodic mix of mayhem and martial percussion is this perfect mix of emotional rock 'n roll and catchy weirdness. They're pretty atypical in some senses; lead vocalist Luke Lalonde's warbly wail careens downhill between composure and mania in often empty spaces waiting to be filled by guitars, keys and drums. Their third labeled release (they're on Paper Bag and Mute) hit the web and stores this past Tuesday. Birthmarks is a solid, beautifully-put-together record and one that testifies to the maturation of the band and their sound (it's on Spotify). They're getting better as they become more mature musicians and seasoned tourers, and we were able to snag some email time from their badass bassist, Mitch Derosier, yesterday.
PW: Boring question but I've always wondered: How'd the name come about? You guys aren't ruffians, are you?!
Derosier: I just realized I've never looked up the actual definition of "ruffian" before. Google tells me it means "a violent person, esp. one involved in crime." So to say that we were born violent and involved in crime would be pretty crazy. I picture us as babies performing a heist. So, no, we're not ruffians.
I'm a bit of a latecomer to the BR game, meaning I became a full-on fan with Say It. And now that I have a new one to listen to, it does seem like you get shinier and more polished with age. Is that so?
That's pretty accurate. I'd say that's reflected in our recordings and our performances. We've probably just gotten better at our instruments too. Also, we probably sweat more as older people now and get shinier with age.
Y'all are suckers for melody, aren't you? Say It's full of it. And Luke plays with it so well with vocals, too.
Thank you (although, I suppose I'm thanking you on behalf of Luke for that). I agree, though. I think Luke's vocal melodies on both our new record and his solo record (Rhythymnals) are better than anything he's done with us up to this point.
To me, the BR sound's so killer partly because of the percussion. It really drives the melodies home, and that Hamelin's sick with the sticks, right?
Steve's drumming is definitely a huge part to our sound. Funny enough, I've seen people comment on Twitter about how amazing his drumming style is. And I've also seen someone frustrated with how he basically never just plays a straight up rock beat.
God, I love Canadian bands. Do you have Canuck pride? And who are your favorite Canuck-in-arms bands in the brotherhood of Canadian rock?
If I could time travel and join The Band to be a part of their brotherhood of Canadian rock, then them. I'd probably need to be able to grow a beard though. We have a lot of good band buds in Canada though, like Young Rival, The Elwins, Hooded Fang and Tokyo Police Club, to name a few.
Are you pumped for this tour?! See you Saturday night.
We are PUMPED in ALL CAPS for this tour. We've been waiting three years to tour these songs, so we're ready to blast them in your face on Saturday. See you then.
They play Johnny Brenda's on Saturday night, 4/20, and the tickets are $10 in advance and $12 at the door. Doors open at 8pm, and the first opener (there are two: Alec Ounsworth and Moon King) goes on at 9pm.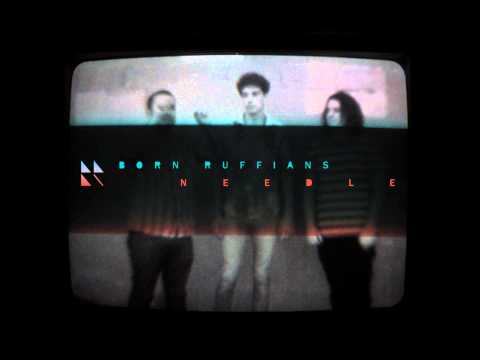 We feature local heroes in the paper this week and you should get a ticket while you can:
Ron Gallo and his Toy Soldiers crew met Seth Klinger when he was assigned to them as an intern for Ropeadope Records, where, in 2011, they issued a one-off EP called Get Through the Time. They hit it off. Klinger started filming and making videos for them, and then suddenly, he was making a documentary about the balls-to-the-wall tour that took them to South by Southwest. Now, they're crazy about him. "Luke, our keys player, has a tattoo he got in New Orleans a few weeks ago that says 'Cajun Seth,'" says Gallo, Toy Soldiers' frontman. Yeah, that's real love.
Klinger has bore witness as the ragtag Americana band that calls Philadelphia its home has grown better with age. There've been plenty of lineup changes over time, but for two and a half years, Toy Soldiers has been playing with a cemented membership that works for them. "The current lineup is the one," Gallo says. "It took a while to find it, but the fates aligned, and it's been great ever since October 2010. Dominic Billett on the drums, Bill McCloskey on bass, Matt Kelly on guitar and Luke Leidy on keys. This is Toy Soldiers."
A Toy Soldiers show is one that communes with the spirits of generations past and present; add a little whiskey, and the band acts as dance conductors. It channels folk traditions, delta blues, raucous vintage rock 'n' roll and a little bit of country, yet Gallo doesn't really embrace the notion of Toy Soldiers being country or folk, per se. "I really just think we're all drawn to the soul, energy, honesty of the roots of this country's music," he says. That fevered moment when you succumb to the energy of a band and dance without inhibitions? That's what Gallo and Co. strive for. They want you to give in and let go.
"We do like fun and making people dance. That's the best most undeniable thing: watching people move uncontrollably," says Gallo. And that's exactly what they're hoping to do at Johnny Brenda's next Friday night with their double-function event: First, they'll screen The Maybe Trails, Klinger's documentary, which they scored and soundtracked, and then they'll bang out a sweaty rock 'n' roll set, their first hometown gig in months.
They're looking at a later-in-2013 release of The Maybe Boys, hopefully an album that'll put them more squarely on the national rock map; there are plans to develop a serious campaign to get this record heard. This time, they worked with Bill Moriarty, their first pairing with an outside producer and, thankfully, a seasoned and accomplished one at that. Moriarty's worked with Man Man and Dr. Dog, but Gallo says Toy Soldiers had a goal going into the sessions: "To get the live show energy across. And he found a way to do exactly that. It's gritty, and it's really fun. We love it."
But it hasn't been smooth sailing for the last few years. With endless tours, soundchecks, naps in vans and technical difficulties, the moments that pummel Toy Soldiers' faith, vision and determination just keep on coming, and that's exactly what The Maybe Trails captures. Asked what one of those worst-nightmare moments on tour were, Gallo perfectly distills the band's drive to make people have a good time. "Definitely the van break down," he says. "It's those moments when you really question what you're doing, and if you can somehow persevere and make it through when literally nothing is going right, that's true love."
The Maybe Trails and The Maybe Boys. What's the connection? "The title came from a joke when we were in Texas during our tour last year" confesses Gallo. "One night at SXSW, we were sitting on top of our van, drinking and people-watching. We realized every girl in Austin is beautiful. So we played a game: Every girl that would walk by, we would vote 'yes' or a 'no.' Almost 99 percent were yesses. Then Luke said, 'You know what other people think when they look at us? They're 'maybe' boys."
Fri., April 19. 8pm. $10. With The Holy Ghost Tent Revival. Johnny Brenda's, 1201 N. Frankford Ave. johnnybrendas.com
This Saturday night, you'll get a chance to shake it like you mean it. There's much to be said about the music born in the year 1993, but let's just say it's a rich-ass year: SWV, Dre and Snoop, Madonna, Mariah Carey, Prince, Jodeci, Janet Jackson, 2 Pac, Gin Blossoms, Smashing Pumpkins, Nirvana, R.E.M., The Pharcyde, Tribe Called Quest, Xscape, Ice Cube, Take That, Toni Tony Tone, and many more, they all had huge hits. In fact, take a look-see here at a list of songs that defined 1993 and you will be saying 'Alright, who's coming with me to Johnny Brenda's?' We asked the party's host, Reef the Lost Cauze, for some thoughts on the big year and the party inspired by it.
PW: How did these year parties start?
Reef: The Its The Year Parties started in July 2008 by longtime Philly party promoter Justin Weileski, with Bo and Emynd, as sort of a tribute to nostalgia and the music of our youth. I guess they figured they needed a host to shout drunkenly at folks, because they asked me to join on about a year later. I think my first party was in July of 2009. I say, to this day, that this is those guys' party; I'm just along for the ride.
Q: 1993 was a most fascinating year in music, especially hip-hop. Which was more influential – Wu-Tang's Chambers or The Chronic?
A: For me personally, it's Wu all day. I'm an east coast kid and there was nothing more east coast then the WU, like EVER [LOL]. But if we are talking total impact, there's no denying The Chronic changed everything: the sound, the landscape, the slang and even the style of clothing. Everyone wanted to be in Cali with Dre and Snoop, and 20 years later they are headlining Coachella like fuckin' Prince or something [LOL]. So it's obvious everyone still does. They won that battle.
Q: Is this basically just a straight-up dance party? Or will you be spitting anything or using a mic at all?
A: It is a stone cold-dance party, my man. There are no breaks, it's music from start to finish. I usually just try and keep the crowd active and excited; I might sing or rap along to a few lines here or there, or even encourage the audience to sing along with us. We are having so much fun up there and the crowd can tell it's sincere, and that energy reaches out to everyone there. Security, bartenders, sound guys, everyone jams out in there.
Q: The Bodyguard soundtrack was the #1 selling album of the year? THEN KENNY G.?! What in the hell?
A: [LOL] Well, hey man, knowing Bo and Emynd, you will definitely hear some Whitney. We did '93 already and that night ended with a packed, sloshed-up dance floor singing loudly to "I Will Always Love You" [HAHA]. It was the last song they played and it was epic.
Q: Do you have a favorite artist/track/album/video/moment from 1993 that comes to mind? How would you characterize the year or, more generally, the early '90s and what was going on in music?
A: I mean, for anyone in their early 30s (I just turned 31), the early '90s were our teenage years. So that point in our life has a very important soundtrack playing behind each moment: first kisses, first fights, first dances, first bong hits. These songs were all a part of that. For me, to try and give credit to just one song or artist would be a disservice to all the music that shaped me, but I will say it was a beautiful time. Pop was as big as pop could get, hip-hop was a teenager as well and spoke directly to me. Hair metal was dead and rock felt fresh. It was just a time when everything was fresh and new and we can't get that back, except for a moment this Saturday.
Tickets at the door will be $7 and it goes from 9p-2a.
This week, in the physical copy of Philadelphia Weekly, you'll find my ode to Matthew Houck and his new, brilliant Muchacho. Here it is for your convenience as well:
The finale track to Matthew Houck's new Phosphorescent masterpiece, Muchacho, is called "Sun's Arising (A Koan, An Exit)." It evokes a beautiful hymnal of choral-flavored salvation, a fitting finish to a beautiful work of art that is his sixth full-length but second LP of original content after 2009's beguiling ode to Willie Nelson, To Willie. Houck's hand in jangly, sun-drenched rock is effortless, earnest and flawless. The Alabama native and current Brooklynite's rarely alone in this pursuit (he hires stellar hands to support him on stage and sometimes in the studio), but he's the brains and the brawn in this outfit. He's a perfectionist and has a brilliant ear, arranging everything but allowing help in the form of a first-rate engineer named John Agnello, who has worked with Kurt Vile and Male Bonding. The end result is one of the best records of the year and the album to blast once it starts staying sunny.

Houck's always had a bit of a sad soul, and sad souls often make the best records. Isn't it euphoric when sadness results in absolute beauty? Envision Houck, alone at a bar, bearded and a little bedraggled, an empty shot glass and a half-full pint in front of him, barely engaging the bartender while he composes in his head. His songs legitimately feel beer-born, with a wavering vocal that portrays deep, dense emotion and a hardened sojourn with regret. However, with the use of a little tambourine and some horns, pedal steel guitar and welcome strings, each track becomes a bittersweet moment that reflects the anguish of unrequited love or magnetic attraction rebuffed. It communes with this hurt and converts it into a therapeutic sonic salve. 

In the way that Conor Oberst captured such punishing hurt on I'm Wide Awake, It's Morning back in 2001, you can grip the pain that comes out of Houck and knead it into a tool of reparative worth. There seems to be a direct correlation, in my mind, to this Bright Eyes-informed melancholy that starts with a melody, a song and becomes an overture of humanity with the help of more instruments and an undeniable penchant for whiskey. As the seed of a gem like "Song for Zula," it's easy to picture Houck playing his guitar on a sunny day at a grassy park in Athens, Ga., his fingers trying to keep up with a tune he's had in his head for days while his friend barely listens, rolling up something beside a brown-bagged six-pack. The stellar single's a tender hymnal that hopes for love while longing for the ability to be loved. 

Each song on Muchacho reveals new hurt and new sadness. The gentle piano on the bruised "Terror in the Canyons (Wounded Master)" practically conjures the emotionality of a classic like "Unchained Melody," but beautifully embeds it in a delightful tradition of country music mixed with bluegrass. A spin of this one would earn Houck a welcome spot on rosters with the likes of Galaxie 500, Calexico, Neko Case, the Feelies, Dawes, Megafaun, the Dodos or M. Ward. If folkie rock a la Mumford & Sons and the Lumineers are pioneering a new era in popular rock, hopefully this is the watershed beginning of a spate of emotionally spiked country rock. This show could be so poignant and pretty, it'll bring you to tears.
Mon., March 25, 8pm. $13-$15. With Strand of Oaks. 
Johnny Brenda's, 1201 N. Frankford Ave.
215.739.9684. johnnybrendas.com
Union Transfer
Friday, March 8th – Django Django
Thursday, March 14th – Starfucker
Friday, March 22nd – The Feelies
Friday, March 29th – Pusha T
Monday, April 8th – Mika
Wednesday, April 10th – Presidents of the United States of America
Thursday, April 11th – Galactic
Sunday, April 14th – Jamie Lidell
Saturday, April 20th – The Joy Formidable
Friday, April 26th – The Dillinger Escape Plan
Saturday, March 23rd – Garbage
Sunday, March 24th – Bad Religion
Friday, April 12th – Black Crowes
Saturday, May 4th – Foals
Thursday, March 7th – Obits
Wednesday, March 27th – Thao & The Get Down Stay Down
Thursday, March 28th – Here We Go Magic
Wednesday, March 6th – Stars
Friday, March 8th – Devotchka
Wednesday, April 10th – Toots and The Maytals
Tuesday, April 30th – Johnny Marr
Thursday, March 7th – Veronica Falls
Saturday, March 9th – Indians
Wednesday, March 13th – Tim Kasher
Saturday, March 16th – The Martha Graham Cracker Cabaret
Saturday, March 23rd – Sky Ferreira with How to Dress Well
Sunday, March 24th – Kate Nash
Monday, March 25th – Phosphorescent
Thursday, April 4th – The Cave Singers with Bleeding Rainbow
Friday, April 5th – Purling Hiss album release party
Saturday, April 20th – Born Ruffians
Saturday, March 23rd – Owen
Friday, April 19th – Iceage
Wednesday, April 10th – TNGHT
Tuesday, March 19th – Nick Cave & The Bad Seeds with Sharon Van Etten
Thursday, April 4th – Living Colour
Monday, April 8th – Rodriguez
Wednesday, April 17th – B.B. King
Saturday, April 20th – Billy Bragg
Saturday, April 6th – Morrissey
Sunday, April 7th – Keyshia Cole
Thursday, March 21st – Esben and the Witch
Sunday, April 7th – Far Out Fangtooth
Tuesday, April 9th – Port St. Willow
Friday, March 22nd – Les Professionnels & Friends
Friday, March 29th – Dangerous Ponies
Wednesday, April 3rd – Caitlin Rose
Saturday, April 27th – El Malito

The Theatre of the Living Arts
Friday, March 15th – Yacht Rock Revue
Sunday, March 24th – Tyler, The Creator
Friday, April 5th – They Might Be Giants
Thursday, April 11th – Bonobo
Thursday, April 18th – Anthrax
Saturday, April 20th – Keller Williams
Friday, April 26th – Les Claypool
Friday, May 3rd – Boris
Sunday, May 5th – Black Rebel Motorcycle Club
Can't wait for their 4/16 release of Birthmarks. They're in Philly on 4/20 at Johnny Brenda's but tickets go on sale on 2/22 at noon. GO HERE NOW AND LISTEN.
Hopefully, you're one of the lucky ones who got yourself a ticket to tonight's SOLD OUT Johnny Brenda's show with Jim James. No opener. No My Morning Jacket. Just James and his oustanding new record to rock people's faces off. Seriously, that record is great.
Ever since 2011's Circuital, My Morning Jacket started looking a lot less like a jam band and much more like a southern-flavored great rock band. Their songs had cool tempos, artistic production and deeper lyrics than any jam bands at Bonnaroo. And yet they had this kind of deserved-or-not reputation for being that kind of band. So it was with some reproach that I spun Circuital, but then I listened again. And again. And again. It has a lot of nuance and character; it's equal parts light and dark. There's celebration and excitement but there's also thoughtfulness, regret and sadness.
It's no surprise that his newest is an astounding new chapter in his story as an artist. Last month's Regions of Light and Sound of God is a beautiful piece of work. And he can take just about every credit for it: "Composer, Producer, Engineering, Vocals, Guitar, Keyboards, Bass, Drum Programming" – all his. While thinking about a solo record he was given a novel called "God's Man" by Lynd Ward. Produced in 1929, it's a dramatic story told in engravings and wood carvings of an artist's struggle with his craft and the trappings of money, power and fame. And while you don't necessarily get that upfront in a listen to Regions, you at least know that this is a talented, gifted man who's devotion to what he does is inspiring.
Today on Instagram he posted a photo of one of our murals with: "city of brotherly love…and murals. beautiful. love Philly." It's mutual, dude.