Poor Tuesday. He's always been the odd man out. He's not Monday so he doesn't get the hate mail of being day one of the workweek. He's not Wednesday so he doesn't get the shout outs for "hump day," Thirsty Thursday is self-explanatory and Friday-Sunday all make Team Awesome because they usually are synonymous with things like dressing casual, brunch and sleeping in until noon.
Poor Tuesday.
Well, now, thanks to a new night hosted by DJ Joe H. at National Mechanics, Tuesday has purpose. Tuesday is cheap fun for kids surviving a recession. Tuesday is karaoke night.
I know what you're thinking, karaoke? Really? I understand, I've avoided karaoke for most of my 25 years of life but I'm of the belief that anything that is easy on the wallet, undeniably funny and can be paired with alcohol has to be coming back into style in this economic environment. Also take into consideration singing in a place that once housed a church, the acoustics must be banging. Did I mention the wireless mics and the fact that the lyrics are projected onto a big ole screen? This means you'll be able  to walk around and serenade (embarrass) any friends hiding in the booths and at the end of the bar.
Hooray Tuesday!
And I am hoping I will end up singing embarrassing ballads alongside my own Joseph Gordon-Levitt and he'll totally fall head over heels for me even if I am a little off on my version of Nancy Sinatra's "Sugar Town". What? It happened in (500) Days of Summer, a girl can dream!
Karaoke with DJ Joe H. National Mechanics. 9 p.m. Tuesdays. Do it.
And on a totally unrelated note, since the "About" section of this blog blatantly points out "We also sometimes (read: often) post pictures of cute kittens and ironic T-shirts," here's a cute kitten video that is vomit-inducing-adorable: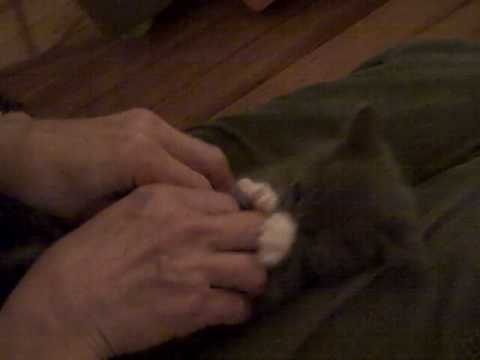 This is an actual, honest-to-goodness story from TMZ about Kenley Collins, the super-annoying, not-really-that-talented Project Runway loser from last season.
One of the most memorable — and hated — finalists from Project Runway is behind bars right now for allegedly fashioning a weapon out of a living, breathing, meowing cat … and firing it at her ex-fiance!

Kenley Collins—the trash-talking, third place loser from P.R. Season 5— was arrested in a Brooklyn home early yesterday morning, after the D.A. claims she attacked her sleeping ex-fiance with anything she could get her hands on—including a cat, a laptop, several apples and finally … water. It's like a design challenge turned violent!

It's unclear what started the fight, but according to legal papers Kenley told her ex, "You're lucky … it could've been a lot worse."

Kenley was arrested and charged with six crimes — including 2nd degree assault, 3rd degree assault and criminal possession of a weapon in the 4th degree.

No word on when Kenley is set to be released from jail.
So, to recap. She used a CAT. As a WEAPON.
But it's just too good. You're gonna want the volume pretty low on this one, kids. Lots of little girl shrieking.
Today, we present you, dear readers, with the streaming kitten cam. It may not be the first of its kind. It certainly isn't that last. But it is exactly what we needed on Monday.
This handsome boy is PW executive editor Liz Spikol's late cat Augie.  She claims that  she was the only person in the world that could see his cuteness. But  I like him.  I think he looks like a tiger.
PW Style will resume regular posting on Monday, December 29. Until then, let's enjoy a few more cute cats. This photo features Nate, who belongs to PW web mistress Nicole. In this shot, he's playing mama to this teensy, tiny stray kitten.