Well, since technology has beaten me down today and told me that I am going to lose this round, I have given up on trying to post the actual video I wanted to share with you all and instead will simply direct you to the link that will provide you with a brilliant moment in Lady Gaga viral video-ness. The crew over at Crushable posted this little piece of Gaga/Newsies glory and it was just too good for me to not post here, seeing as all of us who write for the PW Style Blog are apparently all a bit enamored by pop's newest queen of shock and awe.
CLICK HERE FOR HILARIOUS (BUT SHORT) NEWSIES DANCING TO LADY GAGA VIDEO!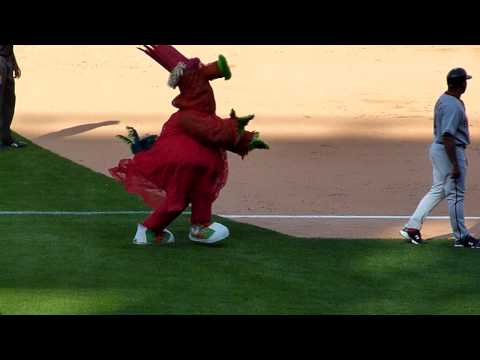 I'm not sure how a bunch of bloggers who have a clear obsession with Lady Gaga (love, hate or otherwise), in addition to loving all things Philadelphia, managed to miss this one last week… No matter, thanks to The Royal Blog for tipping us off on this one. I always love it when the guys on the field attempt to ignore the fact that a big green thing is harassing them.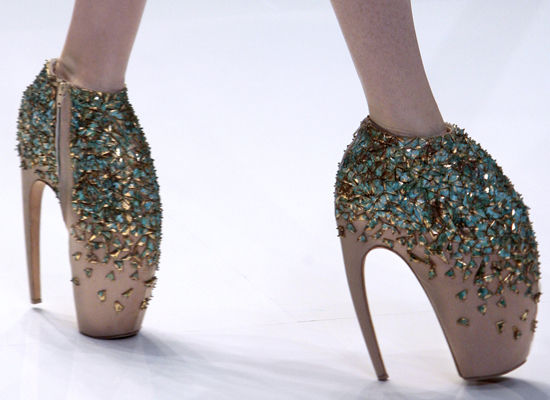 Upon first glance: Is that thing from a Dali landscape, Star Wars, Hell or a disco ball? 
I can't wrap my brain around those shoes and everything around them. What am I talking about? Um, well, aside from presumably millions of dollars of borrowed couture, I'm talking about a music video that is impossible to watch only one time. Lady Gaga (and the Haus of Gaga) have really outdone themselves this time with Bad Romance… and I love it. 
In fact, the outfits attached to those shoes are compelling me to make-up words. Really– you take one good look at the McQueen shoes in front of you and tell me you don't get all Anthony Burgess on me. I dare you.
 
This video has all the standards from our favorite Fame Monster: lingerie, hairless pets, Bladerunner Replicants, synthesizers, spirit fingers, a foreign syndicate, twitching, latex … and I'm pretty sure she's single-handedly raised Ferragamo from the dead. Jesus.
Here are some stills from the Bad Romance video… She must wear 10 separate intricate outfits/ dresses/ works, including one by Alexander McQueen that leaves her looking like a creepy, bolted, gold-studded cupcake/geisha/ant with 10-inch heeled stiletto hooves.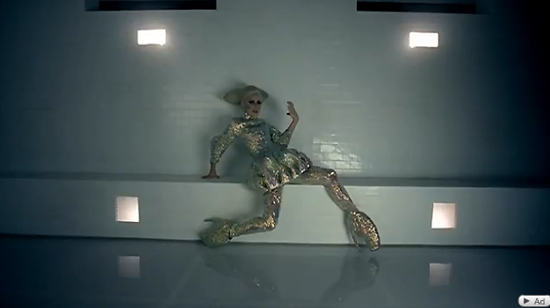 "The singer-songwriter-pianist-provocateur seems to be one of the few pop stars these days who really understands spectacle, fashion, shock, choreography all the things Madonna and Michael Jackson were masters of in the 1980s." (Speakeasy)
Closing thoughts? Lady Gaga and Alexander McQueen need to go pro-create and begin breeding their own little army of slicked back, shiny, matching offspring. Have you seen his Spring/Summer 2010 line that debuted to her soundtrack, with her custom dress from the video as the last outfit in the runway show? Music met couture and fell in love. In fact, they're paired off  and make more sense than coupling milk and goddamn cookies.


We know we can take you seriously when you said pop music will never be lowbrow. Bravo, Gaga.