…..or so says Simon Doonan, Barney's Creative Ambassador, in his new book by the same name. Doonan's new take on dieting boils down to this: there is straight food (think beef burritos) and there is gay food (think sushi), and the more gay food you eat, the better off you are. Kinda makes sense, huh? Doonan recently took his lifestyle tips a step further by spilling his top ten stay-slim secrets to Styleist. We can almost guarantee you've never heard tips like these before.
1. Don't eat guacamole for breakfast … or any other meal. Guac is a one-way ticket to chubbie-ville.
2. Do skip. Skipping burns up millions more calories than walking. Not recommended for rough neighborhoods, especially if you are a man.
3. Do not go near the office vending machine…EVER!!
4. Do watch "Hoarders." It is so disgusting that it will extinguish any hunger pangs you may have.
5. Do wear vertical stripes. It's an old trick, but it works.
6. Do carry a very heavy purse. Put rocks in your Goyard if necessary. Every outing will become an
upper-body workout.
7. Don't become a Town Car addict. Walk down the street at top speed, as if you were being chased by Somalian pirates.
9. Do suck your cheeks in every time anybody snaps your photo.
10. Don't believe your Aunt Luciana when she tells you her risotto is fat-free. She is lying.
"New Year, New You" is emblazoned on nearly every sign in spa and boutique windows this year, and I can't even recount how many times I've stumbled upon that saying on the Internet from the safety of my own bed. Yet, while the repetitiveness makes me wish the 15th (16th?) predicted apocalypse were coming sooner, the message should still ring true.
The most popular New Year's resolutions are consistently to lose weight, quit bad habits, get a better job, be happier/healthier/etc., or save more money. But too often, we ignore one of the biggest facets of our lives: the clothes on our very backs. And if you're like us here at PW Style (which, I hope you are as you read this), you understand how important it is to refresh and rejuvenate your style; and when is it more appropriate to do so than upon embarking on a new year? Click "more" for our recommended fashion resolutions to banish your wardrobe woes in 2012.
Let's hit the main points.
Fireworks—The whole fireworks thing never gets old for us Philadelphians but fighting crowds can be the bane of any fireworks-seeking excursion. UWISHUNU has options, dig it.
The Dress—It's not too late to pick up a last minute frock ladies. Browse the trends and shop accordingly with NY Mag's Shop-o-Matic.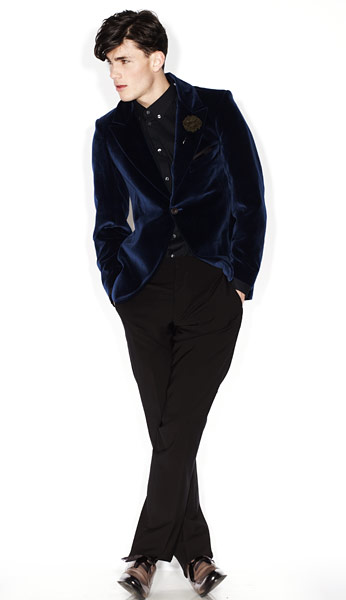 The Threads—Don't worry gents, we haven't forgotten about you. The Guardian has you covered with this easy-to-replicate slideshow of New Year's Eve appropriate options ranging from tuxedo-esque to more laid back suit coat options.
Food-related resolutions—Jezebel maps out who's eating what and where in the United States. It might be a good reminder to get that gym membership.
The countdown—Check out this great lifestyle piece related to using numbers in your decorating around the house. Counting is fun all year long, right?!
The party—Still not sure what you are doing tonight? Thankfully there's a site dedicated to New Year's Eve in Philadelphia. Don't get left sitting at home counting the minutes until you can join the Mummer's Parade.
The way home—There's nothing less stylish than a drunk driver. Do everyone a favor and add a few of these cab companies to your phone before you head out tonight. Have fun but be smart and ring in 2011 the right way!
I'd give you some of my own advice on how to do NYE right but really, I think that should be left to the professionals…well, other professionals that do more than go to house parties on the final night of the year (which is generally my NYE plan of choice). That's why I'm loving the article the NYTimes did with NYE advice from drag queens. My favorite tip comes from Sherry Vine— "And don't drink and drive, especially in stilettos." Click the link above for some entertaining suggestions that will help you get through your Thursday so you can coast right into the good stuff tomorrow.
Pop over to Zoe Strauss' flickr for a dynamic collection of photos documenting this year's 2010 Mummers action. It's a great group of snaps ranging from uber-zoomed-in portraits to Two Street scene shots that capture the madness that only  Philadelphia lets run wild every first of January. Happy 2010.
Oh, hey, it's New Year's Eve already. I'm bucking tradition this year and staying in. My fishmonger boyfriend has secured lobster tails and a very large bottle of Bailey's is waiting for me in the fridge. If you'd rather go out, I assembled a few suggestions for our annual New Year's Eve guide and longtime PW music writer Doug Wallen pimped some of tonight's live shows. But, really, if you're ever gonna stay in, I think this is the year to do it.
1. The economy sucks and while going out to stimulate the profits of local bars and clubs would be a very generous of you, it's also going to take a huge chunk out of your savings. Cover charges, a new outfit, drinks and cab rides add up.

2. Dick Clark is 79 years old and he's had a stroke. Dude ain't gonna be around for much longer and who knows what will happen to his New Year's Rockin' Eve after he bops to the big bandstand in the sky.
3. No one will ever love Ryan Seacrest the way we love Dick Clark. Besides Clark's Philly connection, the guy is beloved by all. Ryan Seacrest, on the other hand, is beloved by American Idol fans and people who still care about Heidi and Spencer.
4. One bottle of Grey Goose costs $26.99. For that much money, you can probably get three watered down Banker's Club and cranberries on New Year's Eve. Totally. Not. Worth it.
5. You forgot to buy a new little black dress. Perhaps this is just a personal problem, but since I spent 98% of the days between Thanksgiving and Christmas tossing back beers at happy hours and imbibing at holiday parties, the thought of squeezing into last year's New Year's dress is very unappealing. As is the thought of going shopping for a new one today.
6. This year's musical guest is Fergie. She's one of the most cartoonish performers of our time. Her tan is so fake, she looks like a honey-baked ham. Watching her wiggle around, lip-syncing all night will be funny. Listening to Dick Clark pretend to respect her as an artist will be even funnier.
7. You're partied out. Between Obama and the Phillies and all-around Christmas glee, maybe New Year's is just too little, too late.