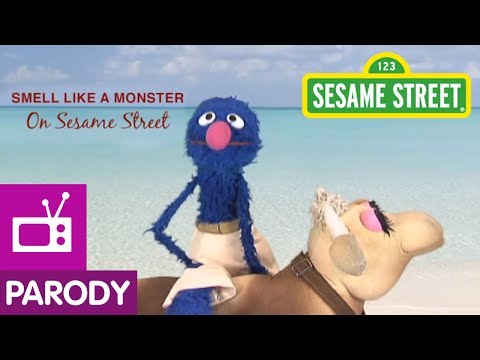 We all love the Old Spice commercial featuring Isaiah Mustafa as The Man Your Man Could Smell Like as well as the time Danielle Fishel (Topanga!) parodied the commercial on The Dish but like the crew over at Jezebel notes, we really didn't see anyone outstaging Mustafa's performance, until now. I give big props to the creative team over at Sesame Street, as they continue to incorporate humor for those parents who probably are a little tired of watching television with the 3-year-old mind as the target audience. I give you, Grover, The Monster Your Monster Could Smell Like, and a cute little clip teaching kids about the word "on."
Thanks Jem!
Sunday's New York Times had an article about running shoes called FiveFingers from a company called Vibram. These shoes are part of somewhat of a movement in the running shoe world. These shoes more closely resemble socks than thick soled running shoes. Quite the departure from New Balances. The thought is that it's better to run as close to barefoot as possible. I'm not so sure I agree.  I've tried to run on the treadmill barefoot and it hasn't ever felt right.  These socky looking shoes are pretty cool looking though.
The New York Times also has a video up from Bill Cunningham, who has a voice that I love.  In this video, Cunningham talks about the women he's observed walking around NYC in what seem to be evening dresses. I think they're just longer sundresses, but I love Bill's take on things.
At the Daytime Emmys there was an Oscar on the carpet. There was also an Elmo and a Big Bird! Sure, there were some talkshow hosts and actresses as well, but the fact that Sesame Street was there and on the red carpet is something that I find highly entertaining.
Somehow I wasn't aware of Lilliana Vazquez and the fact that she's everywhere and doesn't sleep until now. Not only does she run a blog called CheapChicas.com – which helps you wear cute clothes and accessories without breaking the bank,  but she also wrote every single style article on NBC10.com that perked my interest. Her write ups include pieces on Ankle boots, and gorgeous jewelery including great baubles and even necklaces that will help you remember important dates.
Yesterday I was in love with basically everything that Glamour put up on it's Twitter feed.  There was the write up on whether or not men are drawn to women that are hurt, as in wrapped in casts. It sort of makes sense, the trip to the ER does make you look like the ultimate damsel in distress. I guess it's the same idea as when you carry a lot of things and sometimes men offer to help…but mostly just stare. Wait, maybe that's just me?
Another thing that Glamour put up is the commentary from the Reporter that got to talk to Rachel Zoe for Glamour's September issue.
Lastly, Glamour wants to know if Toddler Beauty Pageants make you upset. They make me really sad, actually. Apparently 96% of those that took the poll feel the same way as I write this entry. I'm glad that others see things that way, because the Beauty Pageants to me seem forced and more of what the mother wants to do than the little girl involved. When I'd kick and scream at ballet, my mom let me quit. Sometimes I do wish I was a prima ballerina, but I'm glad I was never forced to do anything like the Toddler Beauty Pageants.
Vera Wang and Oscar De La Renta will be making stops on Sesame Street in honor of Sesame Street's 40th anniversary. A couple other designers found their way to Sesame Street, including Diane VonFurstenberg.  The pictures can be found in Harper's Bazzar.
Lastly, the blog Clumps of Mascara is worth a look. It features videos on how to apply makeup as well as product reviews.
Sesame Street gives the best, simplest and perhaps most accurate explanation I've ever heard.
When I have a Day with a capital D, sometimes I watch this old school Sesame Street clip on YouTube.