Of course there is plenty of reasons to attend the Philadelphia Flower Show, the crazy displays, the massive floral sculptures, the music – but we happen to think the shopping is a great reason to attend. There are so many interesting vendors at the show, you could find something you like around every corner if you're not careful.
Here are just a few of things that we took, and wanted to take, home with us from the show: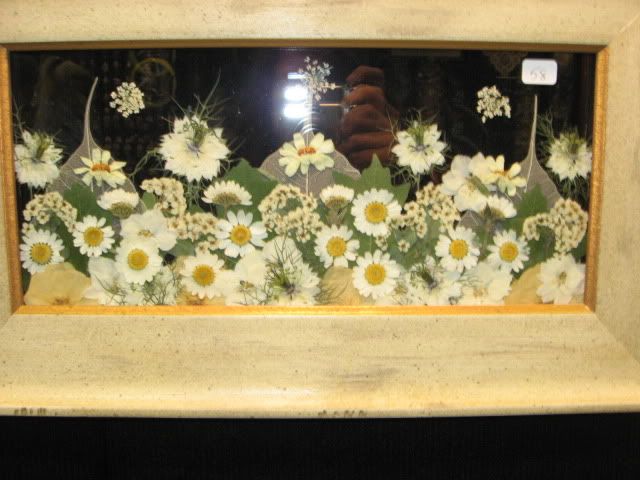 This pressed flower art was so pretty, and reminded us of those Victorian di-o-ramas.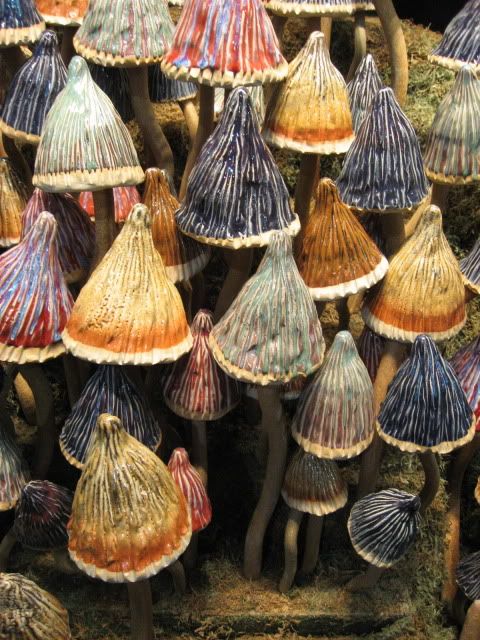 These glass, hand-painted garden mushrooms would look super cool in our apartment, too.
If we had a house, we would be buying this flower chain that hangs from your roof, collecting rain water and turning it into a art nouveau fountain, brilliant.
These brooches and earrings are made from real flowers and would look great in our hair.
Cool pressed metal and leather watches.
Pressed metal hand earrings!
How cool is this brass body hair barrette?!
Some of these Tilandsias (or "air plants") came home with us.
And here's a great hanging bubble vase to keep them in, for only $8.50!
We love the idea of this stone planter for a mini succulent garden.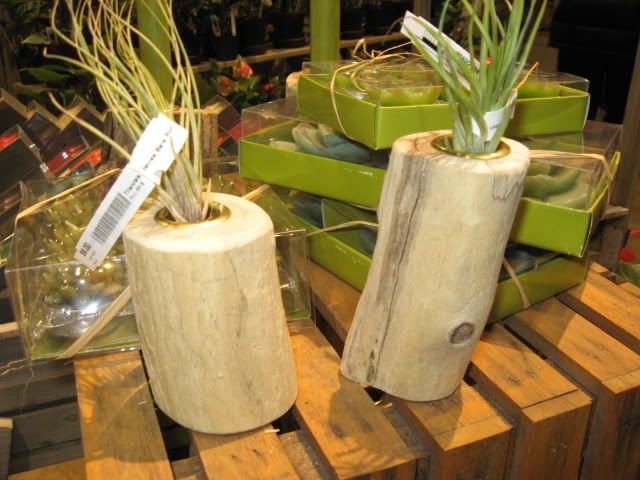 Another air plant holder we could not resist, mini tree stump holders!
The Flower Show is on now until March 11th at the Convention center, so get over there and check out the country's biggest botanical show in your backyard. Follow their tweets and keep an eye on their facebook, too for special deals and announcements.
Your ladies day out just got a little more feminine, thanks to the fine folks at the Philadelphia Flower Show. They're offering PW Style readers free tickets to the 2012 show, for you and three of your gal pals.  It's not unusual to see flocks of women, dressed to the nines, sauntering among the orchids, sipping a cocktail, so feel free to wear you Spring 2012 floral best.  All you have to do is leave your favorite spring 2012 trend in the comments section. We will pick a commenter at random to win the tickets for her and three friends! Follow the flower show news here and here!
Once February rolls around, dedicated alt-weekly readers start encountering the many, many "Anti-Valentine's Day" articles, lists and parties. And, to be honest, it's getting a little weak.  I get that it's  a holiday invented by the greeting card company, I've heard the schpiel about how you are supposed to be romantic everyday of the year and not just one. But, what people always seem to forget is that, an excuse to celebrate anything, is pretty awesome and a necessary part of life. How often would you get all of your friends together to go rollerskating if it wasn't your birthday? Think about it.
So, I've found some great local stuff that celebrate love and Philly and the act of celebrating. Here's to a year of not being Anti anything and pro everything!

1. Jin-Ja is a spicy beverage created by local Philly lawyer Reuban Canada. It's a blend of ginger, cayenne, green tea and sugar that would be so good with gin and a great way to heat up, if you know what I mean. Buy it at Green Aisle Grocery.
2. John and Kiras Chocolate Lovebugs really can't get any cuter. The chocolates, made by local Philly couple John and Kira, are salted caramels, touched with basswood honey from a local farm, covered in ganache and handpainted.
3. Okay, enough with the cute stuff, The Erotic Literary Salon happens every month at Time at we couldn't think of a better time to go and check it out. Susana Mayer Ph.D. leads the night of erotic readings and performances centered around classical and modern erotica. Go order an absinthe and listen to some smut, it will be a very European evening.
4. Ah, The Flower Show. It's the only place where you can physically go out and buy romance. This year promises the sound of CGI waves crashing, the constant smell of lush gardens and orchids, and magically tropical gardens as far as the eye can see. No wonder people are always getting engaged there. Follow them here and here to find out about sweetheart packages they offer!