Yes, summer is drawing to a close.  Soon, it will be gone with the sno-cones, midnight bike rides and pool parties and in with the tweed, all-nighters and new television seasons. Personally, we can't wait. But, we know a lot of you are summer-lovers and get a little misty-eyes the day the calendar turns over to August. So, we are here to remind you about the greatest thing to look forward to as summer ends: the summer sales!  Now is the time to get those rad-but-way-too-expensive shorts you've been eyeing all summer. Here's a few of our favorites on sale!
Patterson J. Kincaid Welt Ribbon Crochet Shorts. Were $148, now $44.70.
Harvey Faircloth Ikat Shorts. Were $225, Now $67.50
byCORPUS Braided Waist Denim Shorts. Were $49.00, Now $24.99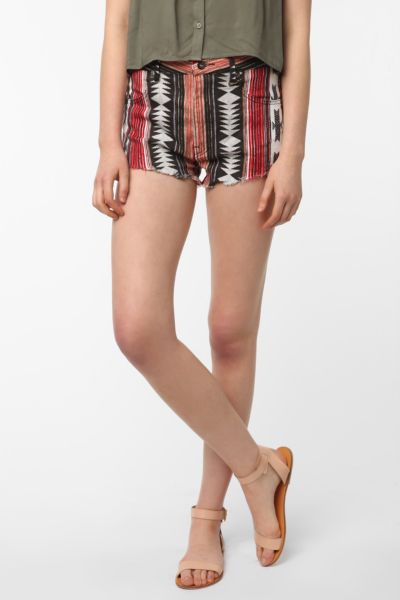 Tallow Dream Cutoff Short. Were $90.00 , Now $59.95
TopShop Ice Cream Print Shorts , Were $40.00, Now $20.00
The Met Gala, it's the who's who of everything really. Whether you're an actress, pop star, social queen or just dating someone really rich — everyone who's anyone is there and flaunting ridiculously dramatic dresses. It's also one of the most blogged about events in the fashion, even more so than the Oscars where starlets play it rather safe. The Met Gala is the night to let it all go and experiment. The results are often awe-inspiring, or, sadly, just plain awful. Here, we take at look the former and the latter.
The Worst

Kirsten Dunst is a big fan and also close friend of the Rodarte ladies, and we applaud here for supporting friends. But it looks like she should be handing out lollipops to kids after they visit Santa.
Model Anja Rubik barely wears an Anthony Vaccarello dress. The holy-high slit and slippery bandages over her boobs are a desperate cry for attention. Is this night about artistry or is it a singles mixer?

NO, no, no B! We love you, but you look horrendous in this Givenchy mess and a bit too eager to show off our post-baby bod.
The Best
You can always count on Dree to bring it. She looks so casual cool in this Topshop Uniqueness Dress.
Katherine McPhee is a tangerine dream in this Ellie Saab dress that fits her so well.
Yeah sure, we'd probably pick her no matter what she wore, but this Deep green Wes Gordan gown and the bright pink Stella shoes is perfection!
After stopping in H&M on my pursuit for new spring styles, I asked an associate if they carried anything with a peter pan collar. Though their website has multiple tops with this style, the associate looked at me as if I was an actual crazy person, and then it dawned on me. This trend isn't as well known as I thought it was. Think of this post as part public service announcement. This trend can be a go-to staple piece that too many women have been missing out on.
If you have a tendency to gravitate towards the floral, cutesy prints, lace, and all things feminine, peter pan collars are a must for you. Though it may not seem much different from the classic collar, the peter pan collar will give your whole look a fresh, feminine feel that's convenient and versatile. It can dress an outfit up or down, depending on how you style it. You can even find just the collar and wear it as an accessory. Here's five ways to incorporate this trendy detail into your wardrobe:
Collared Polka Dot Tank: Forever 21, $17.80
Peter Pan Collar Dress: Zara, $59.90
Blouse: H&M, $9.95
Seed Bead Peter Pan Necklace: Topshop, $30
Peter Pan Drapey Jersey Top: Free People, $49.95
-Lauren Arute
A new viral video has been making its way around the fashionsphere this morning from Jalouse magazine, starring the gap-toothed, o pretty young model Ashley Smith and her many, many outfits. In "Une Fille Comme Les Autres," the 20-year-old model prances around the city, shopping with friends, flirting with boys, browsing bookshops, going out and, of course, having sex on tables, all in very different outfits. We happen to adore every outfit change in this video and thought it would be fun to recreate them.
Opening Ceremony Quilted Patterned Blouse,  YesStyle wool, patterned pleated mini and Jeffrey Campbell Academy Loafers.
Nastygal Stop and Stare Blouse, Youheshe Gani Pleated Skirt, Madewell Aunt Ruth Loafers
Asos Cacheral Pleated Floral Dress, TopShop White Enamel Belt, Rag & Bone Lovell Bootie
The Philadelphia Horticulture Society will soon be presenting this year's sure-to-be-extravagant Flower Show March 4-11th, in our brand new and improved Convention Center. The theme this year is "Hawaii: Islands of Aloha," a tropical experience  that promises "new motion graphics to magically transform waterfalls into lava flows and sculptural forms into breaking waves. As visitors enter the halls, they will be transported to a new world, one with a multi-dimensional sensory experience amid a canopy of tropical flowers that rivals the Pacific paradise." The whole thing has got us aching to get out of our parkas and into a sprightly Spring wardrobe. We rounded up some of our favorite floral items, to get you in mood for blooms!
Rodarte for Opening Ceremony Printed Cut-Out Booties are super fresh version of our chunky winter ankle boots, thanks to the Victorian bouquet pattern and toe-cleavage cut-outs. On sale for $159!
TopShop MOTO High-Waist Sorbet Jamie Jeans are a totally sweet surprise for your legs. We love the combination of pastels with nude, sheer tops and deep navy for spring. It's very technicolor-y.
Lastly, because everyone needs a cheap thrill every once in a while, we have the Tiered Flounce Top from Rory Beca for Forever 21. For just $19.80, this wispy, confetti top is like a breath of fresh air.
Together with the Flower show team, we'll keep you nose-deep in flower show updates. Follow the Flower Show news on their Twitter and Facebook.
When the cold weather and 800 mph Philadelphia winds starts to creep up, it's easy to fall into a dismal, hoodie-filled fashion slump—especially when you're a busy college student. These cardigans are a cuter and, dare we say, cozier alternative to the traditional hoodie. Wear them when you're on the go over a basic Henley, dress them up with your favorite skirt and patterned tights, or pair them with a cute collared shirt for a tom-boyish look. Be sure to layer them with a chunky scarf on those extra windy days. Here are a couple of my personal favorites…
Tri-Color Geo Cardigan: Forever 21, $28.90
This cardigan attracts just enough attention without overwhelming your entire outfit with its loud pattern in these three classic neutral shades. Not to mention the deep V-neckline makes it perfect for layering.
Urban Renewal Geo Cardigan: Urban Outfitters, $49
If you're feeling adventurous, snag this sweater in a size or two too big for you to oversize it, and pair it with a fitted dress or top to balance it out.
Knitted Mohair Cardigan: Topshop, $96
If you're not much of a fan of patterns, this is a great alternative. With its slouchy fit, feminine neckline, double-breasted button detail, and pretty periwinkle color, this cardigan is a trendier, more feminine version of your grandpa's favorite sweater.
–Lauren Arute
Finally, it seems like that long, cold, snowy winter is finally behind us.  With the temp reaching into the 80's today, we got a little inspired to do some summer clothes browsing, and if there's one staple for the season that everyone needs, it's definitely the sundress.  We scoured the web to bring you the best options for that easy, breezy dressing to keep you looking cool in the hot and humid days ahead.
—Kat Blazowski