It's the holiday season which means parties and when it comes to planning what you are going to wear to the 10 events you are attending between now and January 1st it can feel a bit daunting. One way to simplify is to pull out that "when in doubt" little black dress every lady has (or should have!) in their closet and add a little class and sass by adorning a finger with a cocktail or "statement" ring. Quick, simple and oftentimes a forgotten accessory, the cocktail ring is a classic that should not be overlooked. So here's a few to whet your holiday party-wear whistle. And they are all under $100!
The Carribbean Blue Opal by KlaatuCollection, based in Philadelphia, is a cluster of Swarovski Crystals and copper. It's a nice twist on the classic single stone cocktail ring and comes in at $45.
If a statement is what you really want to make, then may I suggest  Lucid New York's Frog Cocktail Ring. It has already been praised by The New York Times for it's big personality and small price tag and now we're jumping on board the fan bus too! You can have this amphibian buddy perched on your finger all night long for $40.
This multicolored Robert Dodd ring ($75) is a great option for people who might not be able to wear metal and appreciate vintage finds. It's made from celluloid and mimics the look of a classic cocktail ring but is more playful and chunky. Alice, over at The Carrot Box, a ring fanatic with a metal allergy, has a great collection of non-metal rings that can dress up any holiday outfit.
Now here's a ring that appears to be a classic single stone cocktail ring but actually is quite the opposite. The Michael Kors Very Hollywood Solid Perfume Cocktail Ring hides a solid perfume beneath the stone so you can easily refresh throughout the evening. And at $40 you don't have to let out the secret that it's a solid perfume from Sephora, but instead can flaunt around that champagne stone and say "it's by Michael Kors" all night long and not even be lying.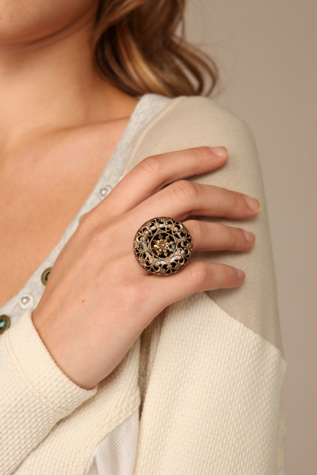 If you prefer the vintage look, Free People has this great round antique-looking ring without the vintage pricetag. I love the way it hangs over the fingers on either side of it the finger it's actually being worn on. How's that for bigger is better? Plus, it goes for just $34. Who knew Free People sold items under $100? I sure did not.
This emerald green glass cocktail ring by Phuze Designs ($62) is another great non-traditional option using a non-traditional material and comes in five other colors. Each ring is unique and has a slightly different shape.
Okay, it's not a cocktail ring and I'm not suggesting you wear it to your company holiday cocktail party at Le Bec Fin, but I thought this Pac Man ring over at the Craftzine blog was pretty smart and hilarious (even if their hand model could use a bar of soap and a nail brush…).
It's the weekend to hang out with your peeps. Yea, there will be seder dinners with mom and dad as well as easter egg hunts with the little cousins, but this weekend it's about the sugary sweet peeps. These little Peeps, hand dipped in chocolate are almost too cute to eat.
The same website, Style.com also has this creepy cartoon that talks to you about fashion. She's styled after Candy Pratt Price, who lays down the fashion law in her 'Candycast.' It's 'powered by' Oddcast.  At least they know it's weird. 
Are you mean? Bad Girls Club is holding auditions in Philly. If you're looking to get your 15 minutes of fame as a nasty girl, make sure you line up on April 18th.
Glamour has put together a list of spring essentials under $100. My personal faves out of this list are the aviators, and the 'jerk umbrella' from MoMa, which will definitely push everyone else off the sidewalk. Just something to think about as you make your way though the urban jungle.